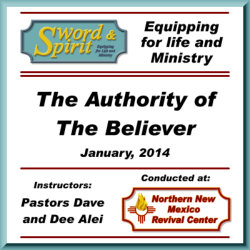 The Authority of the Believer
Many of us know that Jesus said that He gave us His authority. Most of us, however, find ourselves hindered in properly exercising the authority we have over spiritual things. This course seeks to uncover keys and hindrances to walking in our Godly inheritance.
This is not another discourse on how people have, and should exercise, authority over one another, but a look at the spiritual authority every believer has been given in Christ.
We first taught these principles as a six week course in England. This seminar is based on that course, but brings some fresh insights that we have gleaned over the years and adds some new material.