Love for Widows, Elderly, and Orphans Care
A ministry of the Pastors' Fellowship of Mbeya, Tanzania
Love for Widows, Elderly, and Orphans Care was begun by a fellowship of pastors and church leaders to cooperate and work together for the cause of the Gospel. Their goal, in their words, is "to work together as Christian leaders, seeking to obey the Great Commission and Greatest Commandment, in order to serve the physically deprived and the spiritually hungry in Tanzania. Where there is darkness, we seek to bring the light of Christ. Where there is misery and suffering, we seek to bring compassion and relief. Where there are deserts of despair, we seek to create life-sustaining oases of hope through the grace of Jesus Christ."
We here at Lifeline Ministries have visited this compassionate outreach and have pledged to help them reach their goal as we are able. The Mbeya area pastors have targeted the rural area of Mbalizi in the Mbeya region as one of the most needy. The ministry began through a compassionate woman of God named Flora George, who saw the suffering people of her region as part of the Body of Christ. She began to gather them together, sharing the gospel with them, and doing what she could to ease their suffering and to bring them hope.
Pastor Flora has identified 18 elderly, 44 widows, and 111 orphaned children in need of support. Upon witnessing her sacrificial heart, the area pastors have gotten involved, and currently help 3 elderly, 14 widows, and 30 orphans by collecting food and clothing for them which is distributed twice a year. Most of the pastors here are struggling simply to make their own ends meet, but they give as they can to help out.
Their vision is ambitious, and their desire is to provide a level of self-sufficiency for these people by providing them with opportunities that they would otherwise not have. They are looking to purchase a small plot of land where they can raise food - in particular, maize, rice, and beans. They've been able to obtain a few chickens and a rooster to provide a sustainable source of protein in the form of eggs and meat. As these resources multiply, they also hope to have enough to sell in order to provide some other basic needs.
In addition to providing the people with a sustainable food source, the pastors hope to offer the widows some basic training in starting small businesses, such as sewing, farming, animal husbandry, etc., as many of them were never educated and relied on their husbands for the necessary income to provide for their young families.
While we are doing what we can as a small ministry to help out, we ask that you would prayerfully consider helping as the Lord leads. If you would like to help, please contact us for further information on how you can sow into this life-changing ministry.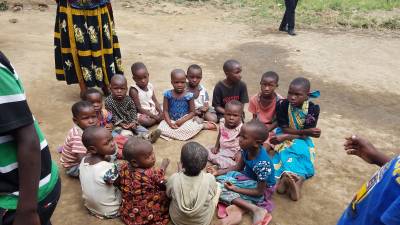 A group of orphans waits patiently for a basic meal of rice, banana, and beans. All of these orphans have lost either one or both of their parents to accidents, AIDS, or drug addiction. The desperate circumstances of life cause people to do desperate things in order to survive, and these children suffer the consequences. Regardless of why these precious young people find themselves without parents, they deserve to be encouraged, cared for, and helped. A one time gift of $50 could feed one of these children for a year.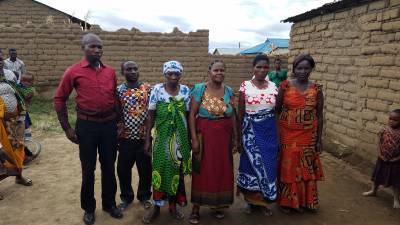 These precious people are the adults who have given themselves to help care for the widows and orphans. The Tanzanian government does very little to help, so widows and orphans are left to the care of volunteers. Often, those who voluneer to care for the less fortunate have very little themselves, but their sensitive hearts won't allow them to turn their backs on those who have even less than they do. These people need our prayers and encouragement as they lay down their lives to share what little they have.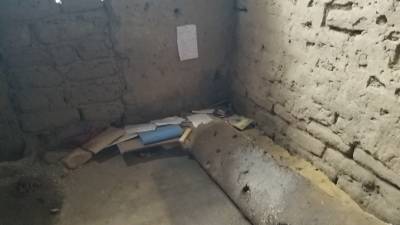 This is a bedroom in one of the widow's houses. Her husband was killed in a motorcycle accident leaving her with six children to feed and no means of support. All six of her children sleep on the foam pad seen on the right side of this picture, then roll it up during the day. The floor is simply packed dirt, and their home has no electricity or running water. Even just enough to purchase a real mattress would mean a huge improvement for these kids' lives.