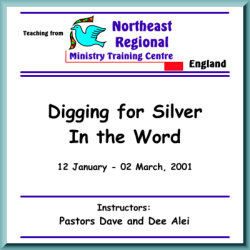 Digging for Silver in the Word
Proverbs 2:1-5 declares that the value in searching for wisdom and understanding is "as silver." Nowhere else in all of literature is the wisdom of God so succinctly contained as in the Bible. To know the Lord, one must know His book.
My son, if you receive my words, And treasure my commands within you,
2 So that you incline your ear to wisdom,
And apply your heart to understanding;
3 Yes, if you cry out for discernment,
And lift up your voice for understanding,
4 If you seek her as silver,
And search for her as for hidden treasures;
5 Then you will understand the fear of the LORD,
And find the knowledge of God.
Knowledge of the Bible is essential for Christian growth. We are admonished to "study to show ourselves approved, workmen that need not be ashamed, rightly dividing the word of truth," (2 Tim 2:15 KJV). However, most of us don't have the time or resources to attend a formal training institution. Yet deep and meaningful Bible study is possible to anyone who is willing to spend even a few short minutes a day when given the right tools.
This course is designed to lay out some foundational principles for personal Bible study in the hopes that, through diligent study of the Scriptures, the average Christian will develop a deep and abiding relationship with our incomparable Savior.