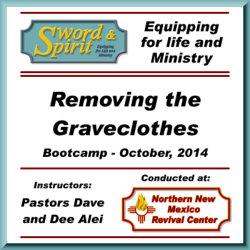 Removing the Graveclothes Bootcamp
There are five major elements that contribute to spiritual bondage in the life of a Christian. This seminar provides an introduction into those five areas and sheds some light on how we, as believers, can walk in greater freedom in our own lives and, perhaps, help others do the same.
Based on the passage in John 11 where Lazarus was raised from the dead, but came out of the grave still wrapped in graveclothes (John 11:44), we provide some insght into the spiritual "graveclothes" that may still hinder us after our rebirth by the King of Kings.
We are forever indebted to the seminal work of Chester and Betsy Kylstra who introduced us to much of this material and upon whose work much of our understanding is based. They are now retired, but their ministry, Restoring the Foundations, has been continued by others and continues to impact the world.