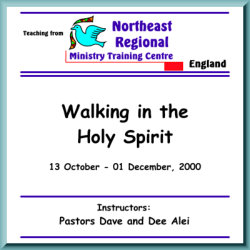 Walking in the Holy Spirit
The power and role of the Holy Spirit is often overlooked, in spite of the fact that Jesus promised to send Him as teacher, guide, and comforter. This course digs into the Scriptures to reveal the Biblical basis for a living, active, and powerful relationship with the Spirit of God.
While some believe that the Holy Spirit was only given to get the Church established, a careful study of the Scripture teaches us that the He was sent to enable the New Testament believer to fulfill the destiny that God has ordained.
Indeed, without the Holy Spirit, it is virtually impossible to truly understand the Scriptures and to know the true character and nature of our indescribable Savior.