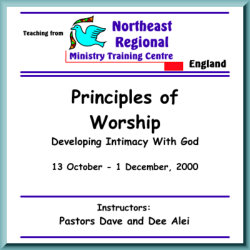 Principles of Worship - Developing Intimacy With God
King David is the only man in the Bible referred to as a man "after God's heart." (Acts 13:22) He was also the first king chosen by the Lord. Jesus is referred to as the Son of David, and it is written that He holds "the key of David" (Rev. 3:7).
One of David's character traits was that expressive, extravagant, and exuberant praise was an integral part of his life. For that, he was ridiculed, but he declared that he would be even more expressive in his love for the Lord (see 2 Samuel 6:20-22).
Many modern believers don't realize that the way we worship the Lord activates many of the promises that He has made to His people. As we offer ourselves to Him in our praise and our worship, the Lord seeks us out and pours out the inheritance of His Kingdom in our daily lives.
This course covers many aspects of our praise and worship that are often overlooked, and sometimes even discouraged, in our church experience. This course challenges us to risk extravagance in the outward expression of our love for God.