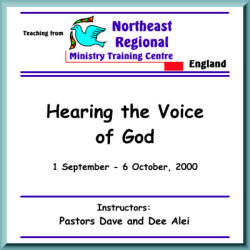 Hearing the Voice of God
Jesus said, "My sheep hear My voice." (John 10:27). Sadly, many modern believers have difficulty recognizing the voice of God when He longs for them to hear it.
Some have taught that God stopped speaking once the Scriptures were in place and that God's revelation of Himself is complete. Others have proclaimed that the only way that God speaks is through the Bible.
This course examines what the Bible teaches about God's voice, and helps the believer develop a confidence that He not only can, but should regularly, personally hear from God in a multitude of ways.